Sunderland Museum, Library & Winter Gardens
Discover Sunderland's fascinating history in one place, at Sunderland Museum and Winter Gardens.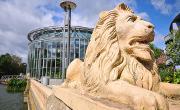 Address:
Burdon Road, Sunderland, SR1 1PP, Tyne & Wear, United Kingdom
Telephone number:
0191 561 2323
Email:
museums@sunderland.gov.uk
Website:
https://sunderlandculture.org.uk/our-venues/sunderland-museum-winter-gardens/
Opening Hours
Following the most recent government updates we are pleased to announce Sunderland Museum and Winter Gardens will reopen to the public from 10am on 17 May 2021.
Please note the Art Gallery is open 11am – 3pm and the Treetop Walkway remains closed.

We will be monitoring visitor numbers to ensure social distancing, but you do not need to book a ticket to visit the Museum & Winter Gardens.

Before you visit, we recommend you check out our Keeping you safe pages to read about the measures we have in place to keep visitors safe. Or watch our pre-visit information video.

Due to possible changes in light of covid restrictions, please check opening times / days directly with the venue prior to your visit

About Sunderland Museum and Winter Gardens
Situated in the heart of the city centre, Sunderland Museum, Library and Winter Gardens has a collection dating back to 1846 and there are plenty of surprises to be found. Explore Sunderland's colourful past within a day, no matter whether you're looking for fun stuff to do with the kids, an afternoon of culture or the perfect day out for inquisitive minds.
The most famous attraction is undoubtedly Wallace The Lion. Wallace was part of a touring wild animal show during the 1800s with the then-famous African tamer Martini Maccomo. Wallace came into the Museum's collection following Maccomo's death 135 years ago and has remained there ever since as one of the most popular exhibits.
You'll also find hundreds of other amazing items showcased at the museum such as the first Nissan car to roll off the production line at the Sunderland Nissan factory in 1986. Galleries at the Sunderland Museum also display pieces from the shipbuilding, glass and pottery making industries in Sunderland, as well as works from the Anglo-Saxon period and many other antiquities from the city's past.
Exhibitions at Sunderland Museum and Winter Gardens
Established in 1846 within the Athenaeum Building on Fawcett Street, Sunderland Museum and Winter Gardens now exists next to the famous Mowbray Park where it remains one of the city's most popular attractions.
Home to the only known British example of a gliding reptile, the remains of a Siberian walrus and a large collection of Sunderland Lustreware pottery, Sunderland Museum and Winter Gardens is a great experience for all ages. The Pottery Gallery is occasionally closed due to special and private events, but is a fantastic exhibition if you're lucky enough to view.
Why not browse The Art Gallery within the museum, which contains a significant collection of works by artist L.S. Lowry? This artist spent a lot of time in Sunderland. Exhibitions change regularly, meaning that there's always something new and interesting for visitors to see.
Meanwhile, the Winter Gardens are a 21st Century addition to the museum. This enclosed tropical paradise sees over 2,000 plants thrive in the glass rotunda. Guests can explore from a tree top walkway, giving birds eye views of Mowbray Park and a variety of plant species.
Entry to the museum is free all year round, but donations are welcome. Discover more about the exciting exhibitions and attractions at Sunderland Museum and Winter Gardens and plan your visit.
How To Get There
Sunderland Museum and Winter Gardens is located next to Mowbray Park on Burden Road in Sunderland city centre. It is a five-minute walk from Market Square, as well as a five-minute walk from Sunderland Metro Station.
If travelling from nearby Newcastle, it can be reached within a 40-minute drive via the A184, and is a 30-minute drive from Durham via the A690 (fastest route).